CityServe Vision
Transforming our city together through service.
How Does That Work
CityServe is a unique initiative that embraces collaborative working partnerships between council, business and community organisations to benefit the community.
What it Looks Like
Homes of the needy painted and repaired
Public facilities such as surf clubs and sporting grounds cleaned, painted and repaired
Parks mulched and streets spaces painted and cleaned
Schools and Childcare centers painted and playgrounds restored
Community halls and centres
---
CityServe is a flexible model of community engagement that can look different depending on the best fit for each group and situation.
An individual group – working on a project they can identify and complete independently.
Groups working together – due to the size of the project or choosing to partner together.
Collaborative business, council and community project – large and small projects available that are jointly managed between CityServe and the local council (includes 1 & 2 scenarios). In this model the scope of works and resources are managed by the council
CityServe Projects run throughout the month of October. Projects are ususally 1 day projects 8am – 4pm and works included are those suitable for unskilled volunteers such as painting, cleaning and gardening.
Would your organisation like to find a project?
As projects options are finalised they will be listed on the CityServe Website 
If you have a project of your own let us know the details and we will list it on our website and promote your project across the region. This is to acknowledge the great work your organisation is doing to assist the community and to help other  volunteers become involved in your project.
Register your organisation to participate in 2017 and our team will be in touch with you.
To stay up to date on all that is coming up in 2017 encourage your team to Subscribe to our CityServe ENews!
---
The CityServe Story
CityServe Australia was initiated in the Hunter Region where there has always been a great serving tradition. People give of their time, energy and resources to serve others, particularly those doing it tough. CityServe builds on this great tradition!
CityFest 2012
In 2011 a group of Newcastle Pastors began a partnership with the Luis Palau association to host an outreach festival in Newcastle. In November 2012 a 2 day festival was held in the heart of the City, tens of thousands of people attended. Prior to the festival the Palau Association proposed that the churches pick up on the concept of a "Season of Service".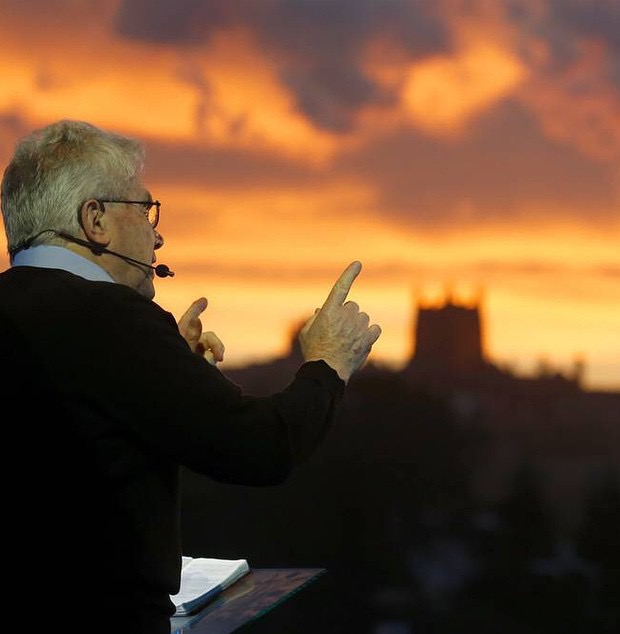 CityServe 2012
In 2012 the 'Season of Service' concept was adapted for Newcastle to a 'One Day' project with the hope that by limiting projects to one day or weekend it might make it an achievable goal for churches. The intention was that this would become an annual focus that connected the church to the community. In 2012 more than 1000 volunteers serving across the Hunter completed 100 + community projects; school playgrounds and facilities were transformed, derelict city buildings painted, streets and parks cleaned and homes or gardens of the needy given a makeover.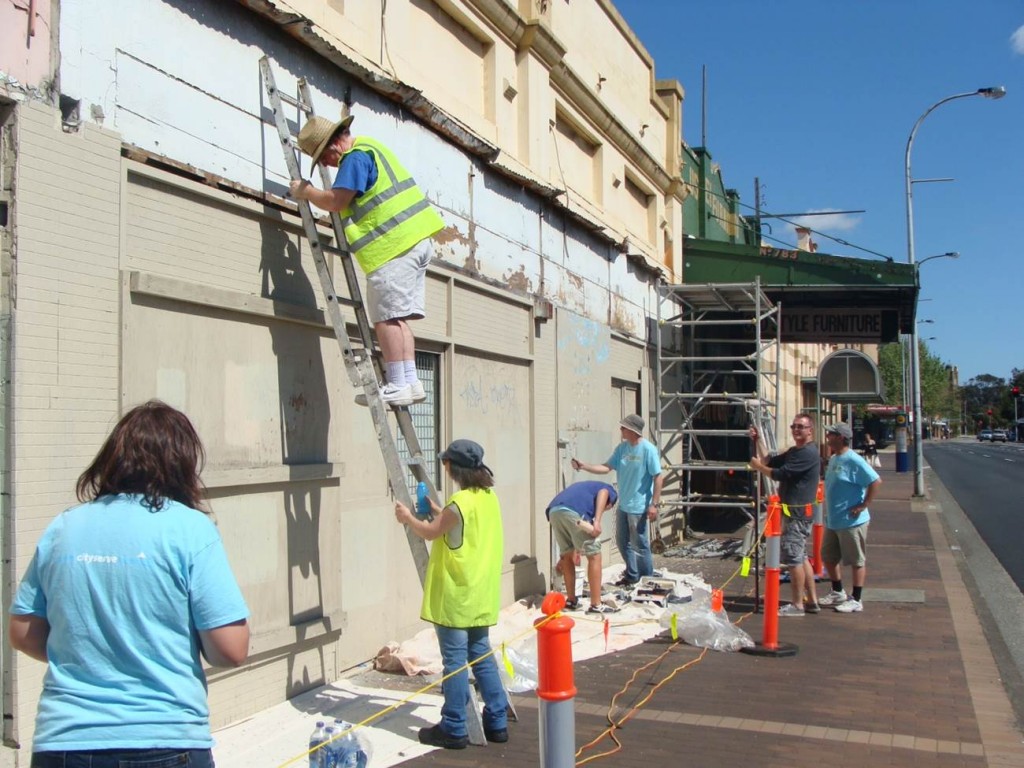 CityServe 2013
In 2013 City Serve was again embraced by the churches of the region. Lake Macquarie City Council with the support of their Mayor Cr Jodie Harrison and LMCC project manager Brad Smith joined the CityServe initiative. In the Newcastle City Region a unique City Serve project and partnership emerged between the Church, Newcastle City Council, Hunter Surf Life Saving and the business community. This partnership arose when 5 City Church pastors asked the Lord Mayor how they could assist the city and after consultation Rhonda Scruton and Hunter S.L.S.C. the 'surf club renewal projects' were established. The goal was to paint, clean and restore 6 Hunter Surf Clubs over 5 weekends. During the project 800 people volunteered contributing around 5000 work hrs. 2160 litres of paint was applied, floors retiled, bathrooms updated and windows and doors replaced. The estimated total value was over $550 000.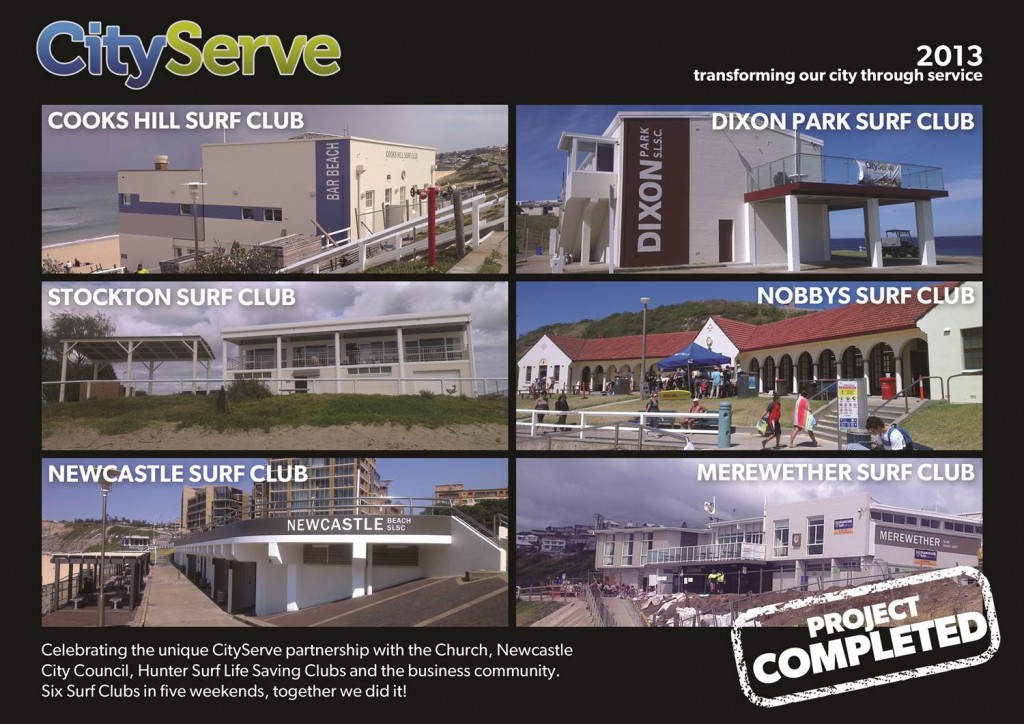 CityServe 2014
In 2014 the church continued to reach out and expand its service in the community. Director Infrastructure NCC Frank Cordingley described CityServe as "a fantastic example of people caring about their communities and being willing to roll up their sleeves and pitch in for positive change." He described his experience of the CityServe volunteer program as being, "one of the best that he has observed throughout his career in council."
In 2014 CityServe was established in Shellharbour. A group of pastors heard about the Newcastle initiative and approached Rick Prosser to establish the program in their local area.  The 'Little Park' Project was successfully completed; 150 plus volunteers contribute 750 hours of move tonnes of topsoil, soft fall and mulch throughout the park.  Gardens were tidied, and fences, handrails and gates repainted. The volunteers partnered with Shellharbour local council and a sense of community and unity established.
CityServe 2015


CityServe 2016

Join this Significant Community Initiative!
We invite you to become a business sponsor and partner of CityServe! FIND OUT MORE HERE
CityServe Direct Deposit Details
Acc Name: City Serve
BSB: 082 514
Acc: 395095533
Email us here and get in touch about financial sponsorship.